These are 5 of the best keto snack bars to buy right now!  On the go, a little treat at the office, or because you want to fill your snack bin; These are a must-try.
Plus one low-carb recipe to make keto bars at home.
This post may contain affiliate links, which means we may receive a commission if you purchase through our link(s) at no extra cost to you.  This information is not intended to be medical education and is not medical advice.  It should not be used as a substitute for your or any medical professional.  You should always seek counsel from your physician before beginning any new diet or exercise regime.  Yes, this means talking with your doctor even if we're simply highlighting keto snack bars.  Also, Nom nom, nom. 
We all need an easy snack from time to time.  It wasn't too long ago that one couldn't find as many low-carb options as we can today.  Times have changed and you're going to be happy that it has!  
Especially if you haven't tried the Birthday Cake Keto Bar from Genius Gourmet.  I'm obsessed.
Best Keto Snack Bars
WHAT SNACK BARS ARE KETO FRIENDLY?
I think 'snack' is such a loose term.  To me, it can mean a bite of food in between the major courses of the day.  As an example:
Breakfast
Snack
Lunch
Snack
Dinner
Snack
Obviously, that's way too many snacks to enjoy every day, but I can comfortably see myself settling into a nice routine as listed above on vacation.  However, the term, amuse bouche comes to mind instead of full-on snack portions.
I've also used snacking as an excuse to eat naughty food in place of a real meal.
We use snack as a positive word to describe a person.  I'm not sure if it's PC, but it makes me giggle.
For right now, let us use the word snack as a ready-to-eat baked product.  Agreed?
BEST KETO SNACK BARS
This list is a rundown of my current favorites.
1.  No Sugar Keto Bar
Run to Costco to find these.  They aren't among the cheapest of snacks, but they are worth every low-carb penny in my book.
Are you into chocolate fudge brownies?  No worries if not.  Because these little delightful bars also come in the following flavors:
Chocolate Mint
Cookies and Cream
Chocolate Chip Cookie Dough
2. Keto Friendly Toasted Almond Crunchy Bar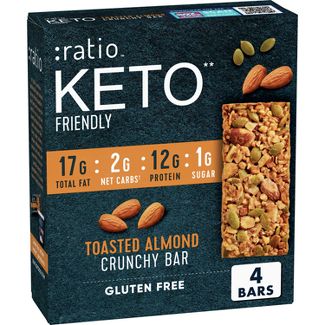 If you don't have a Costco, my sympathies.  But surely you have a Target?  These low-carb bars from :Ratio are great if you are in the mood for a classic granola-style bar.
Try the Lemon Almond Crunch Bar, too.  That one may be my favorite but be warned, some people think this brand is tasteless.  But have you noticed, if you've been on a low-carb track for a bit, that things do taste different and some of the high-sugar things you once loved are not really that great anymore?
Distance makes the heart grow fonder, they say.  But time away from crap sugary treats often exposes their terrible quality.  However, that terrible quality is addicting.  Thus, the sugar epidemic that news outlets sprinkle into their report from time to time.
Conversely, I feel that low-sugar items may taste 'off' at first but you may come to like them.
Honestly, the old me would prefer a Snickers any day/any time of the week.  The new, low-sugar me, does not.   This is one of the benefits of the keto diet, in my opinion.
3. Atkins Bars
We can't ignore Atkins and it does belong on your top 5 list, too.  I find the best deals on Amazon, but you can also browse Walmart in person for an instant fix when you are in need.  Atkins shouldn't be overlooked for one, very strong, reason.  Options.  There are so many flavor options within the Atkins line.
4. Gluten-Free and Keto-Friendly from Genius Gourmet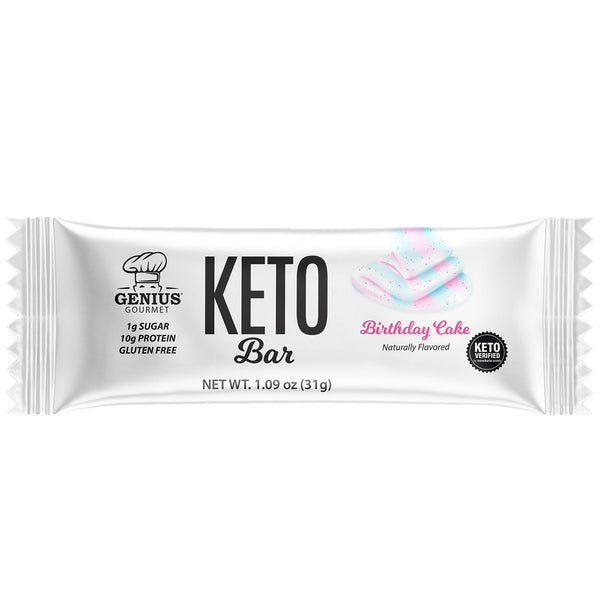 Have you heard of this brand?  I first saw this company on Amazon, but you should check out their website for all of the delicious options.  Double-click on the image (all of the images) to view more information on the products.
This birthday cake low-carb and gluten-free bar is divine.
5. Quest Nutrition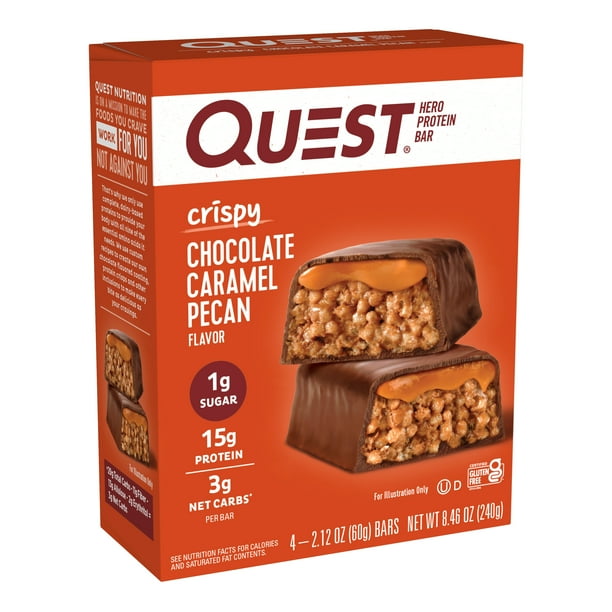 I'm new to Quest.  I think I have seen (but never really paid attention to) this brand until I stumbled on Tom Bilyeu's YouTube Channel.  He's the co-founder of Quest Nutrition.  Check out Impact Theory on YouTube if you're into bettering all the areas of your life.  It's so inspirational and the low-carb Quest bars are delicious.  Their spicy tortilla-style protein chips are also so good!
As with Atkins, Quest has so many options.  I can't wait for you to try them all!
KETO BREAKFAST BARS 
One of the best things you can do for yourself is to cook your own food and control what goes into each meal.  Of course, that isn't always in the cards.  After all, we lead very busy lives.  But when you can, try this delicious recipe from Wholesome Yum.
This Low Carb Keto Granola Bars Recipe from Wholesome Yum is everything you want them to be.  They are easy to make and you can personalize the ingredients to make them perfect for you.  Seriously, try them!
This Post Was All About The Best Keto Snack Bars
Other Posts You May Be Interested In:
The #1 Best Way To Make Keto Recipes With Ground Turkey According To TikTok
It's Time You Revisit And Master The OG Of Lazy Keto Sides
Crazy Yummy Keto Bacon Wrapped Chicken To Have Tonight
All Easy Low Carb Lunches Should Require Zero Cooking, Like This One!
Casea Keto
615 Chestnut Street Lobby
Suite 40112
Philadelphia, PA 19106
HELLO@CASEAKETO.COM