Inspiration for lazy keto diet recipes can be found almost anywhere.  
How many times have you ordered a meal and thought you'd like to try it a different way?  Or, you'd spruce it up with other ingredients?
That's exactly how this lazy keto recipe was formed and is now in the delicious rotation of cheap keto dinner recipes that hit my table each month.
This post may contain affiliate links, which means we may receive a commission if you purchase through our link(s) at no extra cost to you.  This information is not intended to be medical education and is not medical advice.  It should not be used as a substitute for your or any medical professional.  You should always seek counsel from your physician before beginning any new diet or exercise regime.  Yes, this means talking with your doctor even if we're just offering a few different ingredients to make your next burger something special.  And, it's good news if you love a classic burger with a few unexpected twists to shake up your lazy keto diet recipes.  Also, Nom nom nom. 
If lazy keto diet recipes are the goal, then this ground chicken burger should be on the top of your goals list.
This quick and easy keto dinner recipe hits all the flavor notes with surprising pimento cheese, pickled jalapenos, and crunchy bacon atop a keto-approved bun.  Make this recipe a must-add to your lazy keto food list.  This week!
Turning standard meals into lazy keto diet recipes is a delicious way to experiment.
Lazy Keto Diet Recipes Begin With Your Favorites
Free Lazy Keto Recipes Are Everywhere
I was watching The Food Network and Trisha Yearwood's show was playing.  Overall, I do not know a lot about country music, but I now know that she is my new favorite.  The food she was preparing looked mouth-watering and heavenly and I was instantly hooked.  I set the DVR to record all of her new episodes.
In the episode I was watching, she was making patty melts with bacon, charred pineapple, and jalapeno pimento cheese.  Click here to see the recipe.
Although many of the components were not keto-friendly, I knew we (lol, the collective we) could do something about that.  And, we sure did!
What Foods To Eat On Lazy Keto
If you know about the keto diet, you know that there are a few versions to follow.  The difference in those versions, to simplify, lies in how macros and carbs are counted.
With the lazy keto version of the diet, you'll simply count carbs.  You'll want to start with a macro calculator to personalize your goals.  Then, you'll track net carbs and you'll probably fall somewhere between 25 – 50 net carbs per day.
This is excellent news!  Some keto followers restrict their net carbs to 20 per day.  Nay nay, not people looking for lazy keto diet results.  This means, Trisha – we're coming for that burger!
Keto Meal Ideas for Beginners
And that brings us back to The Food Network and that damn patty melt that I wanted so badly.
First, let us tackle the obvious carb in the room.  The bun.  Significantly, the biggest offender of the keto diet.
Basically, nothing ruins a daily carb limit like bread.  Or, is that not correct?
You've got it!  Incorrect is the answer.  Before we move on, let's check out these beauties from Walmart: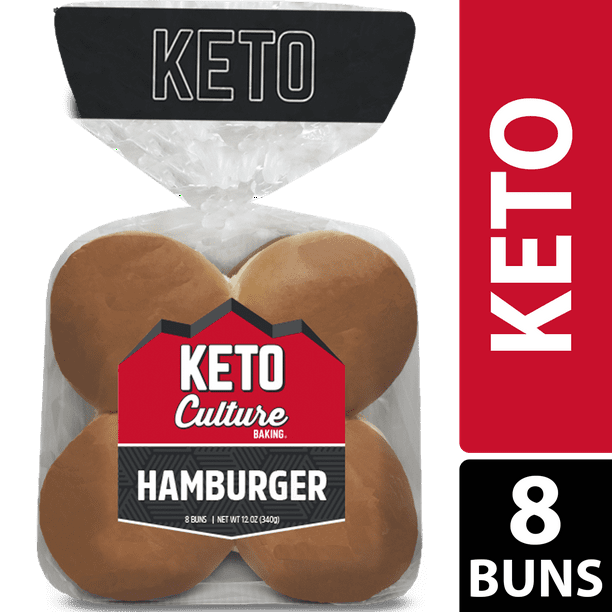 Because more and more stores from the big brands to your local market are carrying low-carb and keto options, finding your favorite should be easy.  Certainly, this is very helpful for same-day shopping.  Or, with a bit of planning, you can have all the keto-friendly items delivered straight to your kitchen!
Like these buns from Keto Culture that come in at an impressive net gram carb calculation of 1 per bun.  Yes, just 1 net carb per bun!
Do You Want To Jump-Start The Keto Plan?  Check Out The Custom Keto Diet
The Custom Keto Diet is a meal plan service designed to help you take control of your health and that number on the scale while customizing it to your preferences.  It's a huge platform that you've likely seen on your social media feeds.  
Program Highlights:
8-week meal plan including the macronutrients you need to track
A variety of food options based on your preference including recipes with step-by-step instructions
A downloadable shopping list for the week keeping you organized and saving time
Click Here Or On The Image To Learn More And Get Started
People Ask: Lazy Keto, Does It Work?
And I love saying it sure does!  Because of people like Trisha Yearwood and her delicious-looking patty melt.  So let's get to it!
Since this is a pseudo copycat recipe, I wanted to make it as easy as possible.  That means fewer dishes to deal with post full belly phase.
First, focus on the pimento cheese mixture as you'll want that to set in the refrigerator before assembling the burger.  While that is setting, grab a skillet or cast iron pan to cook the bacon, onions, and ultimately the chicken patty.
I'm recently obsessed with the onions from the Farmer's Market.
Then one more bowl to mix the meat and you're well on your way to an easy, quick, and super yummy dinner.
You can size the burger and the burger bun, if you wish, by using a mason jar lid as your guide.  But remember that the meat will shrink during the cooking process so you'll want the perimeter to exceed the lid size ever so slightly.
Who is going to inspire your next meal?
Print Recipe
Pimento Cheese Chicken Burger
Ingredients
4

ounce

Shredded Pepper Jack Cheese

4

ounce

Jar Diced Pimento Peppers

1

T

Pimento Pepper Juice, from the jar

1/4

C

Diced Red Onion

1/2

C

Mayonnaise

1

T

Minced Garlic

1/2

t

Paprika

1

T

Celery Seed

Salt and Pepper, to taste

3

each

Strips Bacon

1/2

small

Sweet Onion

2

T

Olive Oil

1/2

pound

Ground Chicken

1

each

Large Egg

Burger Dry Seasoning

I like the ones from the butcher shop, but make sure sugar is not added!

2

each

Keto Hamburger Buns, cut to size

4

each

Pickled Jalapenos
Instructions
To make the pimento cheese, combine the shredded pepper jack cheese through the salt and pepper in a bowl and store it in the refrigerator for a minimum of 30 minutes.

The pimento cheese will set a bit during this time but use half of the amount of diced pimento peppers and pepper juice if you prefer a thicker consistency.

In a skillet, cook the bacon until crispy. Then, set it aside to drain on a paper towel.

Thinly slice the sweet onion to fry in the bacon grease until it browns. Use olive oil as needed to prevent the onions from burning.

Meanwhile, in another bowl, mix the ground chicken, egg, and any dry seasoning that you wish. Form 2 patties to be a bit larger than a mason jar lid.

Using the same skillet as the bacon and onions, cook the ground chicken patties over medium-high heat for 4 - 5 minutes per side until fully cooked at an internal minimum of 165 degrees. Use olive oil as needed to prevent the patties from burning.

Trim your hamburger buns, if desired, making them about the size of a mason jar lid.

Assemble your ground chicken burgers with pimento cheese on the bottom bun. Next, the chicken patty, a tablespoon or so of fried onions, a little more pimento cheese, 1/2 of the crispy bacon, and 3-4 slices of pickled jalapeno, and finish with the bun top.
Notes
The net carbs will vary based on the amount of product that you use.  We always recommend a keto calculator app on your smartphone.  This makes it very easy to adjust recipes as you see fit and also to calculate the final net carb total.  We hope you enjoy this delicious recipe!
This Post Was All About Lazy Keto Diet Recipes
Other posts you may be interested in:
Peek Inside For One Of Your New Favorite Lazy Keto Dinner Ideas
What Are The Best Low Carb Ice Cream Choices For You
Examples Of Low Carb Snacks That Will Inspire You
Enter your email address and never miss a post!  Leave a comment and let us know what you have tried and what else you may wish to see from us.
THIS WEBSITE IS A PARTICIPANT IN THE AMAZON SERVICES LLC ASSOCIATES PROGRAM, AN AFFILIATE ADVERTISING PROGRAM DESIGNED TO PROVIDE A MEANS FOR SITES TO EARN ADVERTISING FEES BY ADVERTISING AND LINKING TO AMAZON.COM.
Casea Keto
615 Chestnut Street Lobby
Suite 40112
Philadelphia, PA 19106
HELLO@CASEAKETO.COM